A Veteran Service Dog Team
While a service dog assists their handler with daily needs and tasks, at the core of a service dog partnership is the bond. A Soldier who scans every room upon entering to assess threats now feels safe and trusts that his service dog will not lead him into danger. A Marine who won't leave the house will step outside the door to take her service dog out for bathroom breaks and walks because of the love between them. An Airman who fights falling asleep feels secure that his service dog loves him and will be right there to bring him back from a night terror.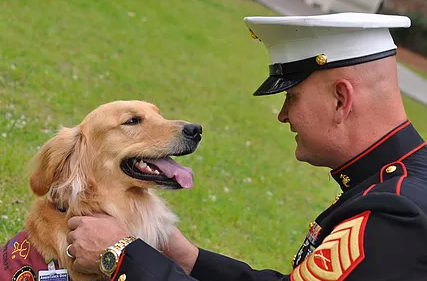 Photo courtesy of paws4vets
Teamwork
We work together with service dog training organizations as a liaison. There are many working parts in the system of partnering Veterans with service dogs. From the Department of Veterans Affairs to coordinating training schedules to assistance for newly formed Veteran service dog teams. We work together with the training organizations to help make all of these parts work in the best interest of the Veteran.
Our Mission
K9s Serving Vets is a 501(c)(3) nonprofit organization founded specifically to assist Veterans on the journey to their service dogs. The average waiting period for a Veteran to be matched with a service dog is two to five years. We work as the liaison between the Department of Veterans Affairs, those who have served and service dog organizations. Our organization was founded to arm Veterans in search of service dogs with information. We are specifically focused on the journey of Veterans to find their service dogs. We assist by doing the following:
Help Veterans start their application process and lead them to the service dog training organization that is right for them and raise funds toward cost of a service dog ($40,000-$60,000)
Assist with the benefits for Veteran service dog teams from the Department of Veterans Affairs
Work with and support service dog training organizations that partner service dogs with Veterans
Educate service dog handlers as well businesses on their responsibilities and rights
Provide a support system where Veteran service dog handlers can come together and assist one another
Making The Right Match
Helping Veterans find the service dog training organization that specifically fits their individual needs and works best for them creates fantastic service dog teams. We work with service dog training programs accredited by Assistance Dogs International as well as our network of independent service dog trainers. It's our way of giving back to those who have sacrificed so much for us.
About Us
As the liaison between Veterans, the Department of Veterans Affairs and service dog training organizations, we empower Veterans by helping them partner with service dogs to transform their lives.
Address
703-652-6040
PO Box 173
Triangle, VA 22172
info@k9sservingvets.org
Email to request presentations or speaking engagements.